Internal - Tears of the acacia
In July 2016 I produced this artwork that was using the the acacia which was fallen in Malonno, Italy.
Over : Natural color by [barks] of the acacia on silk, 500cm x 90cm
Middle : Natural color by [leaves] of the acacia on silk, 500cm x 90cm
Under : Natural color by [roots] of the acacia on silk, 500cm x 90cm
Ph. Emiliano Milanesi courtesy Case Sparse | Tra l'Etere e la Terra
*********************************************************************************
EN
On the 19th of July, 2016, I travelled from Berlin to Malonno for the residency.
There is Case Sparse on a slightly elevated hill and among the mountains, the meadow full with green grass and flowers, then the wood.
I found the tree of one acacia which fell down. The tree was laying down where it felt down, 15m in total length. I remembered a certain pine tree, at the house of my family on the hill of the small port town in Japan. There was the very big pine which was 100 years old, and grew at the back of the house. After our family worked on the field, we enjoyed the cool air while eating ice cream under the pine together. With the sunshine, the comfortable wind, our family and relatives, everyone was happy under the pine tree.
The name 'Onodera' was a common name in my town, so the neighbors called my family "Onodera of the one pine tree".
I grew up while seeing the pine. When time passed, I entered the university in Tokyo and left my hometown. The pine got sick. We had to cut the pine.
The family grieved very much.
I came home from Tokyo, to see the pine cut from its root. I cried calmly.
For me, the pine was a member of the family.
The name for my family "Onodera of the one pine tree", disappeared with time.
I think that my sense of happiness is based on this memory.
I wanted to respect the past life of the tree. I decided to dye the natural colour of the acacia tree, and use its natural colour to make paintings. This was my first experience without normal painters equipment, try to make paintings.
*********************************************************************************
DE
Am 19. Juli 2016 bin ich von Berlin nach Malonno in Italien gereist, um dort an einer Künstlerresidenz in Case Sparse teilzunehmen.
Case Sparse liegt auf einen kleinen Hügel zwischen Bergen und ist reich mit Blumen, grünen Wiesen und Wäldern geschmückt.
Beim Spazieren habe ich dort einmal eine umgestürzte Akazie gefunden – der Baum war 15 m lang. Damals erinnerte ich mich an eine über 100 Jahre alte Kiefer, die hinter unserem Haus stand, als ob sie uns beschützen würde.
Wir haben nach der Gartenarbeit unter der Kiefer immer Eis gegessen. Unsere Familie hatte immer eine schöne Zeit, wenn wir unter dem Schatten der Zweige saßen und den Wind spürten.
Genau an diese glücklichen Momente habe ich mich erinnert.
Da es meinen Nachnamen "Onodera" in meiner Heimatstadt mehrmals gibt, haben unsere Nachbarn uns immer "Familie Onodera von der Kiefer" genannt.
Als ich später schon in Tokyo auf die Schule ging, wurde der Baum krank und musste gefällt werden. Ich weiß noch, wie ich deswegen alleine und still vor meinem Elternhaus geweint habe.
Mit der Zeit ist allerdings der Spitzname "Familie Onodera von der Kiefer" in Vergessenheit geraten. Ich erkannte, dass die Kiefer Teil unserer Familie war und ich habe dank ihr gelernt, was Glück bedeutet.
Ich wollte diesen Baum ehren und habe mich entschlossen, seine natürlichen Farbstoffe zum Färben zu verwenden. Das war meine erste Erfahrung, Bilder herzustellen, ohne dabei normale Farben zu verwenden.
Die Farbe, die ich am Ende ihres Lebens aus der Akazie extrahieren konnte, fühlte sich an wie die Tränen dieser Akazie.
*********************************************************************************
JP
内生−アカシアの涙
2016年7月、イタリアのマロンノ村にて倒れたアカシアの木を用いて制作。
上 : 絹にアカシアの【幹】の自然染料、80cm x 80cm
中:絹にアカシアの【葉】の自然染料、80cm x 80cm
下:絹にアカシアの【根】の自然染料、80cm x 80cm
写真: Emiliano Milanesi courtesy Case Sparse | Tra l'Etere e la Terra
*********************************************************************************
JP
2016年7月19日、私はドイツのベルリンから、イタリアのマロンノ村に到着した。
Case Sparseというレジデンスは少し小高い丘の上にあり、山々に囲まれ花と木々に溢れていた。
散歩に出ると、一本の倒れた木を見つけた。
全長15mはあるとても長いアカシアの木が根本から倒れていた。
子供の頃、大好きだった一本の松の木を思い出した。
私の家は、樹齢100年も超える一本の大きい松の木が家の裏にあり、見守られるように暮らしていた。畑仕事の後は家族と松の木の下でアイスクリームを食べるのが習慣だった。木洩れ陽の中、気持ち良い風が吹いて、家族が心地よくいたその瞬間を、子供ながらに幸せと感じていた。
小野寺という名字は私の街ではよくある名前で、近所の人達は私の家族を「一本松の小野寺さん」と呼んでいた。
私が東京に進学した頃、その松の木は病気になり切られてしまった。帰省して一人静かに泣いたことを覚えている。あの時、私は松の木は家族の一員だったんだと自覚した。私の家族のあだ名だった「一本松の小野寺さん」は時とともに消えていったけれど、松の木のおかげで私は幸せの概念を学んだように思う。
この木の人生を尊重したいと思い、アカシアの木の生きた色を染めだそうと思った。
初めて絵の具を使わず、生きている植物を使って制作した絵画になった。
アカシアの最後の瞬間を抽出できた色は、まるで涙のようだと思えた。
*********************************************************************************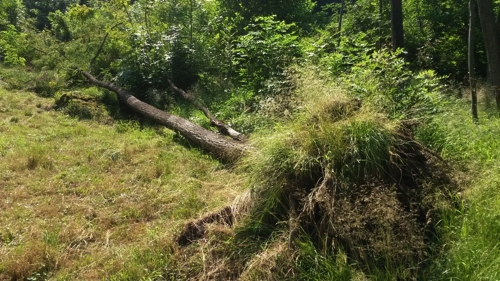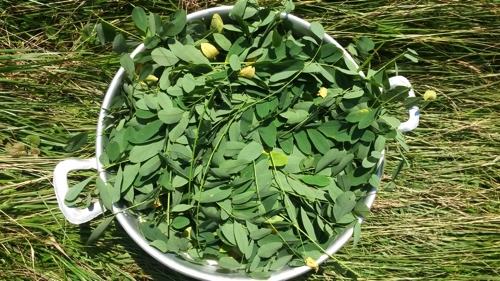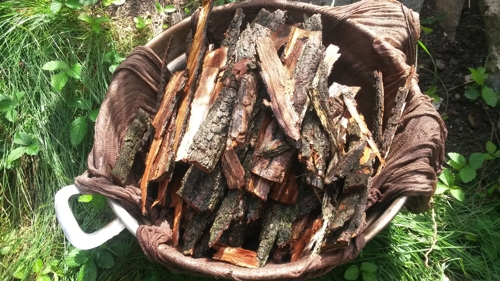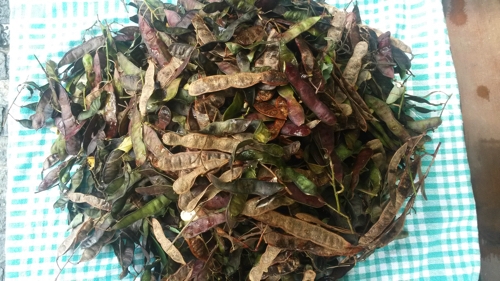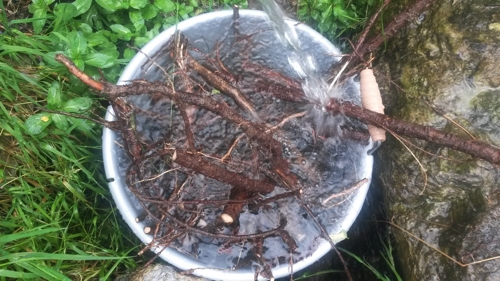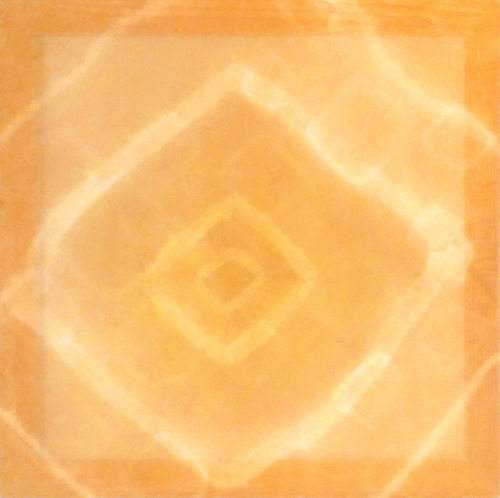 NC.by bark of the acacia on silk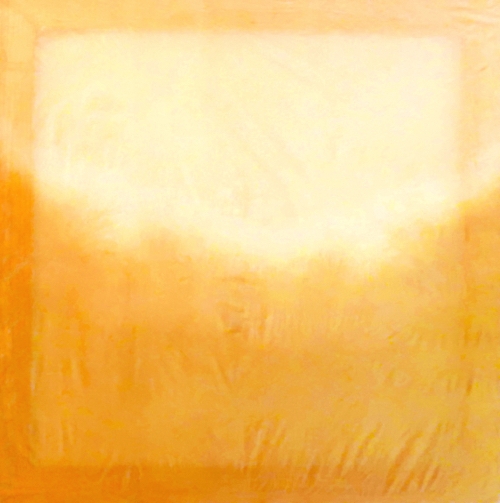 NC.by leaves of the acacia on silk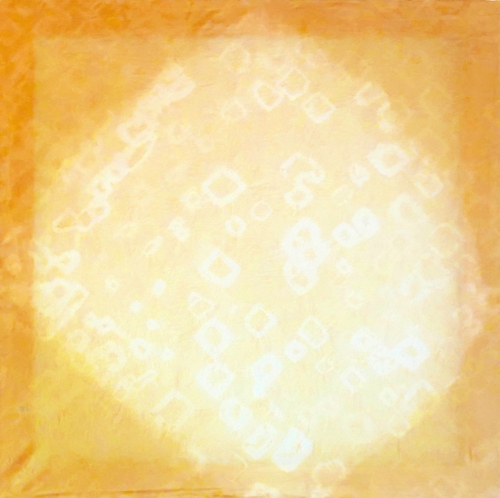 NC.by roots of the acacia on silk